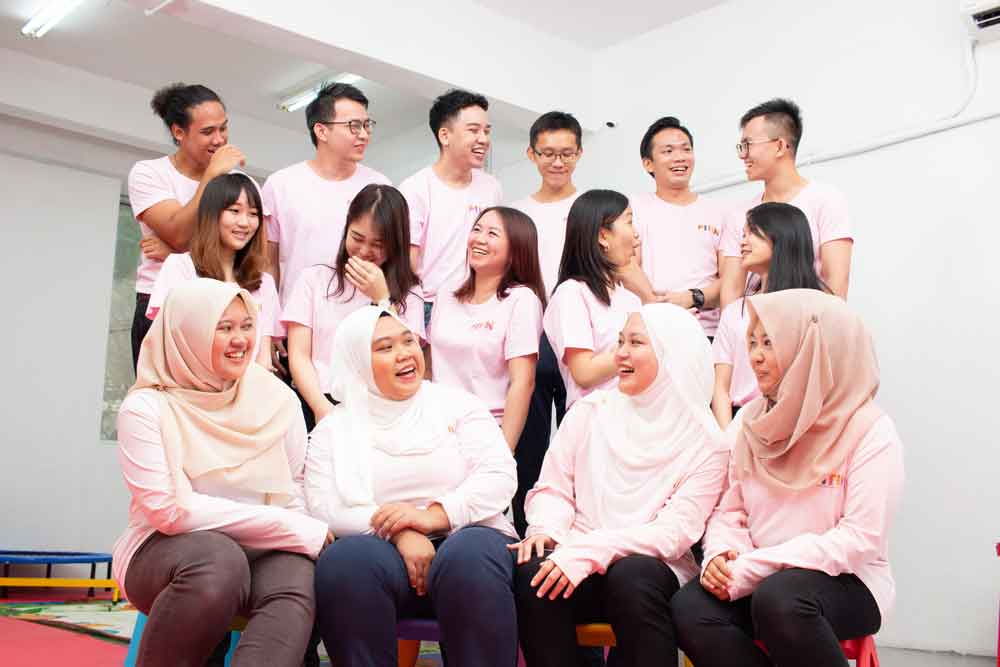 Our Mission 
To help all children to live a normal and healthy life
To help parents to be aware of autism and child learning disabilities and the options available.
____________________________________________________________________________________
Working at FIT IN is more than just a job.
You will be well-positioned for a long and successful career in behavioural therapy
You will be part of a collaborative team of talented therapists
You will always be learning through ongoing training and shared experience
You will have the opportunity for your professional development.
1. Junior Behavioural Therapist OR Special Needs Educator
REQUIREMENTS
Graduation Year : 2017 - 2021
Fields of Study : Any Discipline (Preferred: Psychology, Education)
Education Level (pursuing / obtained) : Diploma or above
Required Level of Work Experience : None
Languages spoken: Fluent English & Malay
Highly passionate for developing children, willingness to learn and compassionate.
Enjoy working with children.
Individual that is fun and energetic
Men are encouraged to apply
JOB SCOPE
Provide one-to-one therapy to children with special needs under supervision
Prepare reports and teaching materials
Attend regular in-house training for professional development
Attend team and parent meetings
JOB INFORMATION
Professional development and training
One month induction training
The opportunity to develop into other roles (e.g. Senior ABA Therapist, Centre Manager) under supervision.
Competitive salary depending on experience
Salary from RM1800 to 2800 per month inclusive of performance bonus
2. Senior ABA Therapist
REQUIREMENTS
2 years full-time equivalent demonstrated experience as a therapist in Applied Behaviour Analysis
Experience with social facilitation, group play, naturalistic teaching strategies, and parent training
Demonstrated ability to implement skill based programs for a wide variety of abilities
Experience working with children, adolescents and families with special needs, particularly Autism or Asperger's.
A demonstrated ability to work independently
A capacity to develop leadership skills
Working knowledge in the field of Early Intervention
Excellent interpersonal skills and the ability to build rapport with families
Commitment to quality delivery of service
A thorough knowledge of ABA techniques
Own car with a current drivers licence
Desired Characteristics: high energy, passionate and creative
Field of Study : Psychology or related field
Education Level : Bachelor's or Master's degree
Preferred: RBT / BCBA Certified or above
WHY WORK WITH US
Be a part of a collaborative and passionate team changing the lives of children and their families
Opportunities for career advancement to be Team Leader and Centre Manager under supervision
Join a highly supportive team
Competitive salary depending on experience
Salary from RM3000 to 5500 per month inclusive of performance bonus
3. Centre Manager
REQUIREMENTS
Education: Bachelor's degree in Psychology, Education, Human Resources, Business or any other related field required.
Experience: 3 to 4 years of working experience within a large-structured and complex business environment. Preferably worked as junior behavioural therapist in Fit In before, under the supervision of a Team Leader and Centre Manager. Experience in employee performance assessments and adult learning.
Communication Skills: Written and verbal communication skills are a necessity for clear and concise conveyance of information instructions, and sensitive information, which will determine the effectiveness of the company.  This role is required to prepare various training materials and draw reports on the performance and progress of employees and initiatives that are presented to senior management to aid in strategy formulation and informed decision-making
Microsoft Office & Google Drive : A candidate for the position must be highly proficient in the use of Microsoft Word, Google Drive, Microsoft Excel, and PowerPoint, which are all necessary in the creation of both visually and verbally engaging materials and reports for senior training and development management.
Analytical Skills: The ideal candidate has a proven ability to pinpoint, analyze, assess training needs within the business, translating those needs into actionable initiatives. He will also have an ability to assess the performance of existent systems, identifying points of improvement and developing new improved strategies and initiatives
Interpersonal Skills: The Centre Manager will also have an ability to work both independently and in a group setting, be able to work comfortably in a highly collaborative setting, have keen attention to detail, be proactive going beyond his call of duty, have a strong sense of personal accountability, and demonstrate composure in times of uncertainty
People Skills: A candidate for this position must also be highly capable of making deep and meaningful connections with others. They will be a likable and relatable individual who is able to earn the trust of others, hence, making it easier for them to trust and follow in his strategies, programs, and initiatives.
JOB INFORMATION
Competitive salary depending on performance of the centre
Housing allowance
Target bonus
Salary from RM7000 to 12,000 per month inclusive of performance bonus
4. Internship OR Special Needs Assistant
REQUIREMENTS
Currently studying OR have studied in related field
Background working with children preferred
Highly animated, passion for developing children, willingness to learn and compassionate
6-8 hours availability per week
JOB SCOPE
Document therapy services accurately and timely (i.e. data collection and reporting parent)
Work under supervision to provide direct therapy
Complete the required technical training and participate in ongoing training opportunities
Redirect, intervene, observe, and monitor client behaviours
Communicate daily progress and client concerns to the appropriate team members
Assist clients with personal care including: dressing, toileting, personal hygiene, food and diet needs
Attend and participate in meetings
Other duties as assigned
JOB INFORMATION
Hands on experience relating to your studies
Theoretical and practical training from our therapists.
The opportunity to develop into other roles under supervision.
Flexible work hours around your study
RM 8 to 10 Per Hour
Only shortlisted candidates will be called for an interview.
Job application is strictly confidential.